When we first announced our individual cruises, my sister Sarah and I were excited that we were going to overlap while at sea. But we were even more excited to learn that we are connected out here in a way few sisters can claim.
Sarah is five and a half years older than me and is working for her Ph.D. at the University of Miami. On her cruise, which ends on Wednesday, March 16, she is analyzing carbon content in the water to study biogeochemical processes in the Southern Ocean and along the Antarctic Shelf.
I, on the other hand, am an undergraduate studying geology at Colgate University in Hamilton, N.Y. I'm currently in the Atlantic helping collect and analyze data on volatiles in samples of mantle material that we bring to the surface. Like normal sisters, we argue over who started studying the oceans first. 
This is especially funny because since we were younger, my sister feared that I would copy her. In anything. She is the more musically inclined of the two of us. We used to sing "Old McDonald" with our parents, and my sister made up some of her own lyrics: "Ee aye ee aye oh, bum bum!" She added the last part because she felt that the classic song was lacking a final couple of beats. As long as I can remember, we always finish "Old McDonald" with "bum bum" at the end. And every time, she would shout, "You can't say 'bum bum'! I made it up! Only I can!" So, like the good little sister I am, I always put an extra emphasis on "bum bum."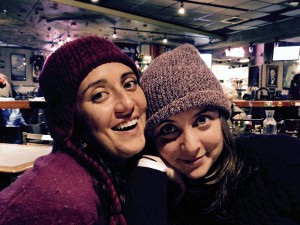 The trend continued. She played field hockey, I played field hockey. She went to a small college in New York, I am going to a small college in New York. She studied chemistry, I am studying geology with a focus in geochemistry. As we've grown older, she and I even are starting to look similar. When I joked that one day we would write a paper together, I heard this instead of an amused laugh: "No way."
Despite our sibling rivalry, we are thick as thieves (or rhyolite, which is a very viscous eruptive material–I had to make a geology reference somewhere). She's my best friend and I like to think she tolerates me. When I told her that I was going to go on a research cruise to the Mid-Atlantic Ridge in March, she responded, "You're still copying me." Then she proceeded to give me all the advice that she thought I would need: Bring chocolate, don't bring Nutella, be nice to the cooks, don't get on anyone's nerves, etc. We talked about how we would email each other from our ships and how cool that would be. 
Then, a few days before the Popping Rocks cruise left, I got a text from our father. "You and Sarah are on sister ships! Sisters on sister ships!" A few hours later, I got an email (from my sister's ship email account to mine (we have special email addresses while we're at sea) that her ship, the Revelle and mine, the Atlantis, are sisters. A few minutes after that, my mother emailed me the same thing. Our whole family was in an uproar and way too excited about this, including me. I proceeded to tell everyone I could find about this development, and they responded, "Wow that's cool!" And moved on. But I couldn't, of course, and I wrote a blog about it. 
So what are sister ships? Sister ships are ships built in the same shipyard from the same plans. They are virtually identical, except for the equipment they carry and small changes that each has accumulated over the years. Meghan, who is on my cruise, told me that she could get around on Atlantis because she had been on the Revelle a few months earlier. Another fun fact is that sister ships are given a certain class because they are made with the same design, like a last name for ships! Alantis, Revelle, and a third sister the Thomas Thompson, are Global Class research vessels made from a U.S. Navy design by Halter Marine in the 1990s. Unfortunately there are only two Bercovici siblings, so we couldn't hit a world record of three sisters on a fleet of sister ships. 
The Woods Hole Oceanographic Institution operates Atlantis, and the Scripps Institution of Oceanography does the same for Revelle. Both ships have their defining characteristics, just like my sister and me (see what I did there?). There is one big difference between Revelle and Atlantis. Atlantis is specially modified to hold HOV Alvin, a submarine that allows humans to reach the ocean floor and mostly runs research cruises that require Alvin, though occasionally supports more general research, as well. In addition, Revelle hosts the Hydrographic Doppler Sonar System, a unique instrument that measures velocity and shear in the water column at much higher resolution than other hull doppler profilers. Like Atlantis, Revelle is also a general research vessel and is used to support research in many different fields. 
During her time at sea, Sarah is studying ocean-atmosphere interaction, and I am studying ocean-mantle interaction. She studies carbon in the water, and I (sort of) am looking at carbon dioxide in popping rocks. And we've both forgotten what's it's like to be on land. Basically, the Bercovici sisters are an unstoppable force that will discover all things ocean-related. Maybe.
Bum bum. 
A big shout out to my big sister, Sarah! Caw caw!