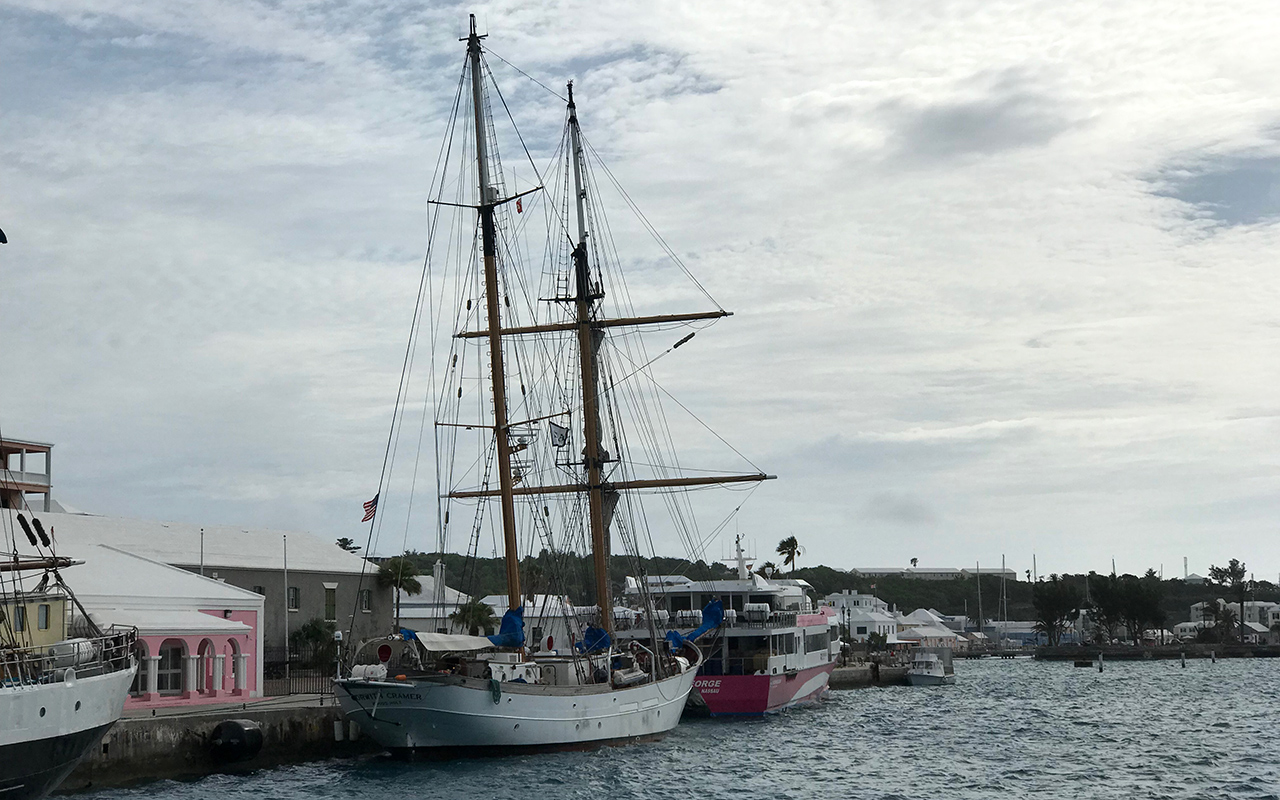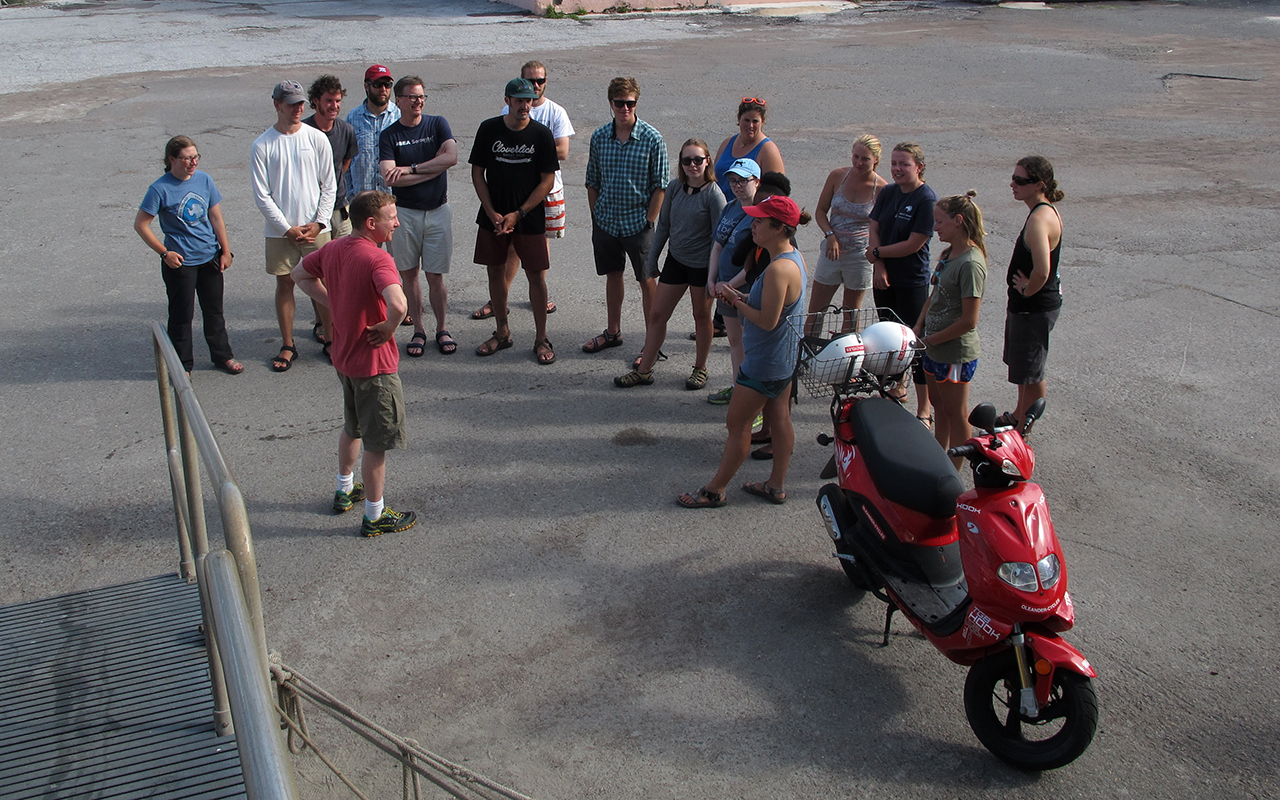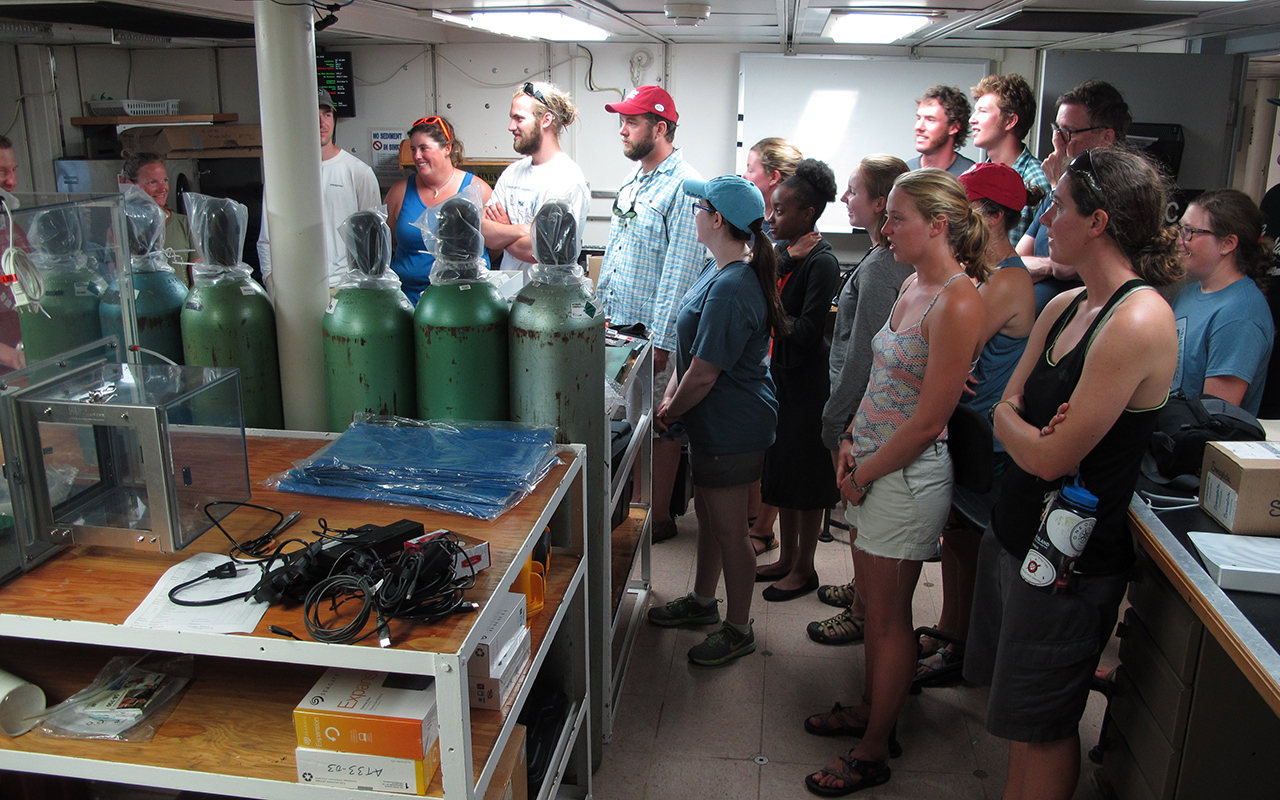 Traveling to beautiful ports-of-call is one of the benefits of conducting scientific research in the deep sea. The port of call for the Popping Rocks 2 cruise was St. George's, Bermuda, an idyllic tropical oceanside town, but there was a sight waiting for us that made it feel more like home. In addition to the brightly-colored homes and businesses, we found the familiar shape of the Corwith Cramer, a two-masted schooner that about 20 college undergraduates call home for a semester-long experience learning about sailing and oceanography, tied to the same wharf as R/V Atlantis.
The Sea Education Association (SEA) is based out of Woods Hole less than one mile from WHOI's Quissett campus and the Cramer is routinely tied up at Dyer's dock next to WHOI's dock.
The Chief Scientist of this semester's SEA voyage, Kerry Whittaker, brought a group of students and staff over to Atlantis for a tour of the ship, it's scientific laboratories, and the deep submergence vehicles on board: HOV Alvin and AUV Sentry. The students were wowed by the spacious labs, amazing technology, and even commented on the large size of what we consider to be a standard CTD, an oceanographic tool for measuring the properties of ocean water with depth.
Their appreciation for aspects of our well-appointed ship, especially the air conditioning, became obvious when Popping Rocks 2 scientists were given a reciprocal tour of the Cramer. The ship, which is smaller than R /V Atlantis, has bunks stacked on the walls of the galley and passageways, cramped laboratories, and smaller versions of oceanographic tools (winches and CTDs) than Atlantis. Privacy, which is hard enough to find on a large ship, seemed at a premium.
The tradeoff is that these students have a rare opportunity to learn valuable sailing and navigational skills, while making important contributions to our scientific understanding of sargassum (a unique species of drifting seaweed) and the animals and micro plastics associated with it. The Popping Rocks 2 scientists were envious of the beautiful Cramer, especially the allure of doing research on a sailing ship rather than one powered by large diesel generators.
The enthusiasm and camaraderie of the SEA students was visible as they incubate seawater samples for DNA extraction, conducted maintenance on the ship, or simply relaxed on deck. As our own voyage gets underway, we are looking forward not only to the exciting scientific research we are undertaking, but to developing the same camaraderie and joie de vivre that is possible within any group on any research vessel (regardless of its size or level of technology) working to discover the secrets of the ocean.